Originally Posted – Saturday, March 31, 2012    
Spent an hour talking to a 63 year old veteran who had questions about osteomyelitis "I did not know I had Type II Diabetes until the ulcer on the sole of my foot would not heal. I have been on three different antibiotics for 5 months now. Still no progress."
He continued "The VA doctor wants to amputate my three toes back to my ankle or even my whole foot. Just as I was leaving his office I heard him say to himself 'I wonder whether hyperbaric oxygen would help?' I found out that the VA has a center in Long Beach that they contract out to, but there is more than a three month wait . . . by that time I will lose my foot."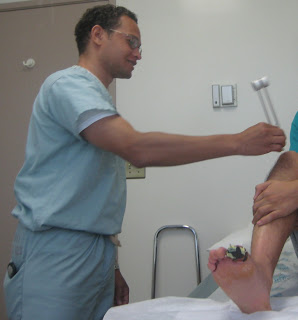 I explained that hyperbaric oxygen will kill the infection, particularly staph' bugs. And I recommended that he search for a hospital quality free standing center, since most of these facilities charge around $200.00 for each session — one tenth of the hospital department charges. "Find the money somewhere, we have had patients that could have salvaged their toe, then the lost their foot, then they lost their leg. It is called 'nibbling.'"
His response was to question why the VA does not have its own chambers?
The answer is a simple one . . . surgeons make money from surgery. "You do not cut, you do not bank" is the credo. Hospitals are "Castles of Cronyism."
The picture above is such an example. A crushing traumatic injury to a 17 year old soccer star. Surgeon's advice "The toe cannot be saved and we need to amputate most of the foot." The parents chose HBOT — 25 treatments at the San Diego HCI center and the young man is now playing University soccer — with all his toes!
From the "Amputee Fact Sheet:
The increasing rate of diabetes diagnoses in the United States is cause for alarm. Related healthcare costs are staggering, as data shows the total annual cost of diabetes treatment in 2002 (including direct and indirect costs) was estimated at $132 billion, or one out of every 10 healthcare dollars spent in the United States.
Recent Trends in the United States
The CDC estimates that 23.6 million Americans currently have diabetes—7 percent of the U.S. population—up from 18.2 million in 2003.
Each year, over half of all amputations in the United States are caused by diabetes mellitus and subsequent complications, with most being lower-extremity amputations.
Advice from Sandsie:
DIABETIC. CHECK YOUR FEET CONSTANTLY. FIND A WOUND AND SEE A COMPETENT WOUND CARE PHYSICIAN.
ASK FOR HYPERBARIC OXYGEN THERAPY TO BE AN ADJUNCT TO HIS TREATMENT.
IF YOUR INSURANCE WILL NOT COVER HBOT, GET A Rx. FROM YOUR DOCTOR FOR HBOT, AND THEN SHOP AROUND FOR AN EXPERIENCED FREE-STANDING CENTER.