In 1990, Robert Lyne-Sands ("Sands") was described as one of the world's "foremost diving and hyperbaric engineering designers … with considerable interpersonal skills, enthusiasm and vision"*. He was a founding member of the International Hyperbaric Medical Association and continued to be a top pioneer in his field.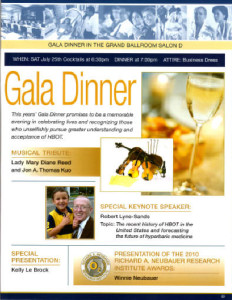 Coming soon ...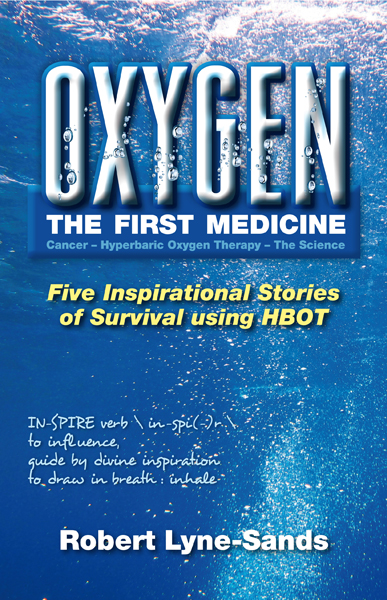 At last – a science book written for specialist physicians but in a language understandable to a person without medical training who has an urgent need to know what to do next.
IN PRINT 2015
Click here for more …
Sands established a number of out-patient HBOT (hyperbaric oxygen treatment) centers across the U.S., Mexico and Southeast Asia, with continuing growth in those regions. Currently, 20 Sands-designed chambers are operating in 12 different locations in the United States, South America and Southeast Asia. Sands' San Diego facility utilized cutting-edge technology for the treatment of malignancies (cancer) and head injuries.
With research grants from the Australian Department of Science and Technology, Sands' first patent (1982) evolved into a unique transportable chamber (TRCS) that could be flown in helicopters as small as the Bell U-H series. The Sands Design was granted a full U.S. patent in 1989 and was chosen above all other U.S. and foreign designs by the United States Department of Defense. The Sands TRCS is now in fleet-wide use by the U.S. Navy, Coast Guard, and Marine Forces, and other Western Alliance Navies, and its design was copied widely in other countries. When Sands migrated from Australia and settled in California, there were less than 300 hyperbaric oxygen therapy (HBOT) hospital-based chambers in North America. These facilities treated only 14 life and limb saving illnesses and traumas. It is for this reason that that this preeminent biomedical designer turned his attention to the many other chronic maladies that would benefit from HBOT.
In 1997, Robert Sands designed another original chamber, the Series III Clinical Monoplace; simple to use and patient-friendly. From young children to the elderly to special considerations for the massively obese, all could be safely and comfortably treated. Part of Sands' design criteria was that the new chamber could be fabricated at reasonable cost and in small quantities. Thus, the units could eventually become affordable and possibly built in third-world countries. Robert Sands retired from the manufacturing side of the industry in 2004. Sands then concentrated on hospital-standard care HBOT centers and clinics throughout the world.
Robert Sands had a special passion for the children and elderly who suffer from brain damage (i.e, stroke, cerebral palsy, autism, near-drowning, etc.). Since U.S. hospitals with hyperbaric chambers would not treat these patients, he became the first non-physician to open an independent, out-patient HBOT Center in 1993, utilizing the medical knowledge of an eminent Science Advisory Board, consisting of specialist physicians. Many have followed Sands' example since that time, and the treatment is becoming more accessible to patients who desperately need it. Emily, the first child with cerebral palsy to receive HBOT in North America, was successfully treated at one of Sands' centers.
In the last two decades, Sands was a guest lecturer at numerous universities and hospitals across the U.S., South America, and South East Asia, as well as making television appearances including a feature in the Discovery Channel's "The Healing Chamber" program. Sands described himself as a "Citizen of the Planet, with a U.S. Passport" and held a great determination to make HBOT accessible to all people at affordable prices.
Apart from his dedication to the science of hyperbaric oxygen therapy Sands' love-affair with the underwater world and diving medicine continued. A SCUBA Instructor teaching five specialties including Cave Diving, Sands was also a Level 2 Coach in the Australian National Coaching Accreditation Scheme, an Instructor and Examiner for the Royal Life Saving Society of Australia, and a member of the world Federation of Underwater Instructors. Sands continued to dive at every opportunity.
Summary
Sands' professional history included hands-on work in the "investigational" areas of hyperbaric oxygen therapy. He had extensive experience in patient treatments for the conditions "approved" by the Undersea and Hyperbaric Medical Society, including the trauma and sickness associated with diving and aviation. Sands travelled internationally, lecturing at University and Hospitals about the advances in this unique form of medicine.
* Des Gorman, MD, PhD, – 1/1/1990 – Officer in Charge of Diving Medicine Unit, Royal New Zealand Navy, Consultant in Diving and Hyperbaric Medicine – Royal Adelaide Hospital, South Australia; Royal Australian Navy, The Sultan of Oman's Navy. Professor Gorman currently (2009) is the Head of University of Auckland's School of Medicine.
Curriculum Vitae
Education: Newington College, Sydney Australia
1982–1989
Sands is the designer and patent holder of the Transportable Recompression Chamber System ("TRCS"), now used by the U.S. Navy. The five-year research and development phase of the unique two-piece TRCS commenced in 1982. During this period Sands worked with many worlds' foremost hyperbaric research facilities and also with the U.S. Navy on a collaboration basis.
1990–Present
In 1990 Sands relocated from Australia to the U.S. During this period Sands was closely involved in the treatment of many "investigational" illnesses using hyperbaric oxygen therapy. These ailments included vascular headaches; HIV/AIDS fatigue; chronic fatigue syndrome; postoperative closed-head trauma, cerebral palsy and autism.
Hands-on experience with sub acute care patients led to the design and development of the Sands "Series 111" Clinical chamber, one of the few U.S. monoplace chambers "cleared" by the Food and Drug Administration ("FDA").
Considered by many experts to be the most patient friendly clinical chamber in the world, the Series III is now in use across the U.S. Southeast Asia and South America.
The success of the Series III clinical chamber has significantly reduced the cost of patient treatments throughout the U.S.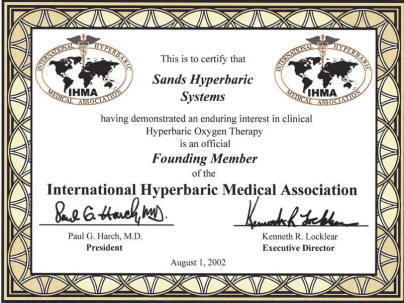 No, 'Sandsie' is not a Medical Doctor and has never claimed to be one. However in the last 20 years he has personally supervised more than 23,000 HBOT sessions. "I am beginning to get the hang of it now", says Robert L'
Click here to view Australian Technology Magazine article
Click here to view Newington College News article
CIVILIAN:
U.S.A.
• F.G. Hall Environmental Laboratory – Duke University N.C.
• Department of Physiology – University of Hawaii and Manoa.
• Catalina Marine Science Center – University of Southern California.
• STRAUB Hospital and Clinics, Honolulu.
Australia
• Hyperbaric Medicine Unit – Royal Adelaide Hospital, Adelaide, S.A.
• National Safety Council of Australia – Sale, Victoria
• Hyperbaric Medicine Unit – Alfred Hospital, Melbourne, Victoria
• Hyperbaric Medicine Unit – Royal Prince Henry Hospital, Sydney, N.S.W.
Malaysia
• University of Malaya Medical Center
• Bomba Bersama Masyrakat – Fire and Rescue Department of Malaysian Training Academy
Mexico
• Mexico City University Center – Conference on Autism
• Purto Vallarta – Conference on Autism
MILITARY:
U.S.A.
• Navy Experimental Diving Unit – Panama City F.L.
• Naval Civil Engineering Laboratory – Port Hueneme, C.A.
• Naval Construction Regiment Arctic simulation camp – Idaho
Canada
• Canadian Experimental Diving Division – Toronto
Thailand
• Arpakorn Kiatiwong Naval Hospital – Sattahip Chalburi
• Somdej Pra Prinkloa Naval Hospital – Bangkok
• Special Weapons Battalion – Lopburi
Malaysia
• Lumut Naval Hospital – Lumut
• Universty of Malaya Medical Center
Oman
• Sultan of Oman's Diving Unit – Said Din Naval Base
• Royal Oman Police Coast Guard – Muttrah
Australia
• School of Underwater Medicine – H.M.A.S. Penguin – Sydney