Many physicians that work in hospital HBOT and Wound Care Departments are inhibited by reimbursement requirements and are unable to treat many of the patients that they know HBOT would assist in recovery.
As this field of medicine grows in the United States, more and more specialist physicians are referring their patients to Centers for HBOT sessions.
Because the list of maladies are so varied, we make 24/7 use of physicians and scientists that have a long acquaintance with HBOT to support the referring physicians and their patients.
We are proud to be associated with such an eminent group and our Center's Medical Directors are be able to draw on their vast experience.
The Curriculum Vitae of our Science Advisory Board members are condensed.
Hyperbaric Medicine, Surgery and Perioperative Care
Dr. Dr. Frederick Cramer, M.D.
Dr. Cramer is a Board Certified General Surgeon who completed a twelve month Fellowship in Hyperbaric Medicine at the United States Air Force School of Aerospace Medicine (USAFSAM) in 1980. He subsequently served as the Chief of Hyperbaric Medicine at the USAFSAM from 1982-84. He has been active with the International Congress on Hyperbaric Medicine (ICHM) serving as the President of the 14th ICHM held in San Francisco in 2002. He has been the Secretary-treasurer since the formal organization of the ICHM (1998-2008). Dr. Cramer is the Emeritus Director for the San Francisco Institute for Hyperbaric Medicine
The Institute is dedicated to clinical research and education in the rapidly developing field of Hyperbaric Medicine. Patient treatment under currently accepted guidelines will be provided on a space available basis.
Clinical research protocols will be based upon prospective, randomized, clinical trials. If the end points are in anyway equivocal, every attempt will be made to double blind the studies.
Hyperbaric Team Training intended for individuals who are new to the field and plan to be involved with clinical HBO treatments on a daily basis will be offered by the Institute. This will include physicians, nurses and technicians. The course will include both didactic lectures and hands on experience at the Institute's chamber facility.
A periodic international symposium is also planned. This will bring international experts from around the world to San Francisco for a state of the art review of the current status of Hyperbaric Medicine.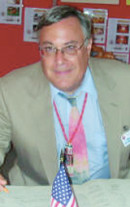 Diving Medicine and Wound Care
Dr. J. Thomas Millington, Jr. M.D.
Dr. Tom graduated as an M.D. 1969 at Jefferson Medical College, Philadelphia. After his Army service, he moved to California where his passion for scuba diving sparked his passion in diving medicine with specialty training: Hyperbaric and Diving Medicine, National Oceanographic and Atmospheric Administration, in 1983.
Since that time, Dr. Tom has achieved the following certifications:
• Diplomate and Certified Wound Specialist, American Academy of Wound Management. October 1998
• American College of Hyperbaric Medicine Boards 1990
• Fellow, American Academy of Family Physicians. American Academy of Preventative Medicine: Subspecialty Boards in Hyperbaric Medicine 2001
• Fellow, College of Certified Wound Specialists, 2005
Apart from his passion for diving medicine, Dr. Tom's special interests include delayed sequel carbon monoxide poisoning, and the treatment of complex problem wounds using hyperbaric oxygen as part of his treatment protocol. He has published extensively on these subjects and he has lectured throughout the United States and Southeast Asia.
Amongst many, Dr. Tom's appointments include:
• Board of Directors: Historical Diving Society
• Board of Advisors, Marine Tech Dept, Santa Barbara City College, Santa Barbara, CA
• Board of Advisors: College of Oceaneering, San Pedro, CA
• Medical Advisor: Ventura County Sheriff's Underwater Search & Rescue Dept 2001 – present
• Medical Director National Polytechnic College of Oceaneering Hyperbaric Medicine Tech. Associates in Science Program 2005 – present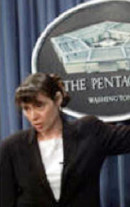 Clinical Research
Dr. Beatrice Golumb, M.D., PhD.
Dr. Beatrice has had and continues to have an extraordinary career in clinical research since she first graduated as BS, Physics, Summa Cum Laude (4.0 GPA at age 19), University of Southern California. By 1988 her passion for medical research led her to a PhD, Biology, University of California, San Diego and then on to her Medical Doctorate in1989 MD, University of California, San Diego. Dr Beatrice achieved Board Certification, American Board of Internal Medicine, in 1993. A prolific researcher scientist, Dr. Beatrice has published 40 peer-review papers, 22 abstracts and technical reports. She has authored and published five books, one of which was in the top ten RAND list in 2000.
Dr. Beatrice is not only inquisitive but also adventurous. In 1997 she accompanied high level mission to the Middle East, with Dr. Bernard Rostker (Assistant Secretary of Defense for Personnel and Manpower; then Undersecretary of the Navy), and several other DoD and Congress officials. The purpose of the mission was to brief officials from other nations regarding illness in Gulf War veterans and exposures in Persian Gulf War; and to perform fact collection. Her itinerary included Kuwait, Saudi Arabia, Egypt, and Israel.
Dr. Beatrice has appeared more than thirty times to testify before Congress, the Pentagon, Department of Defense, National Institute of Health (NIH), Foreign Affairs and Veterans Affairs, RAND, and Senate Finance Committee representatives amongst many. Keenly sought by the media, Dr. Beatrice has recently appeared on CBS News with Dan Rather; Channel 10 television news, San Diego, 1997, KNBC TV, 1998; New York Times 5 column article, CNN, NBC, ABC, CBS, LA Times, Reuters/AP, Science magazine; British newspapers; NBC Nightly News, 2001; NBC Nightly News, 2001. Apart from extensive television appearances, she has been featured in the Wall Street Journal, MSNBC (print,) San Diego Union Tribune , Los Angeles Times; New York Times, Newsday, and The Times (London.)
Dr. Beatrice's Current Positions include:
• Associate Professor of Family and Preventive Medicine: July 2004-present – University of California, San Diego School of Medicine
• Research Associate Professor: October 1998 – present – Department of Psychology – Social Science
• Research Institute – University of Southern California
• Attending Physician: August 1996 – present – Division of General Internal Medicine – VA San Diego Healthcare System
• Health Consultant, RAND: August 1996 – present – Santa Monica, CA
Dr. Beatrice's Current Activities and Affiliations include:
• Scientific Director, Department of Veterans Affairs Research Advisory Committee on Gulf War
• Veterans Illnesses: Jan 2002 – Sep 2003; Chief Scientist: Sep 2003 – 2005; Member 2005 – present
• Member, Committee on Appointments and Promotions (DOMCAP), UCSD 2007-2010.
• Advisory Board, The Science Network (http://www.tsntv.org/about/advisors.php): 2004 – present
• Senior Vice President, ISCHEM Corp: 2002 – present
• Planning Committee, Robert Wood Johnson Generalist Physician Faculty Scholar Program 2006 annual meeting (meeting 11-30-06 to 12-1-06).
• Member, American Society for Preventive Cardiology: 2002 – present
• Member, Stein Institute for Research on Aging: Aug 2001 – present
• Member, AHA Council on Epidemiology and Prevention: 2000 – present
• Member, American College of Physicians: March 1995 – present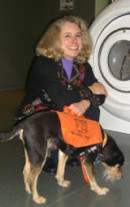 Pediatric Medicine
Dr. Danielle Malbasa Rose, M.D.
Dr. Danielle graduated Medical College Georgia in 1986. She the completed her posdoctoral Pediatric Residency at Wake Forest University Baptist Medical Center in Winston. Faced with her own challenges, Dr. Danielle's special interest was focused on hearing impairment in children, and apart from her research, has published widely on that subject. Dr. Danielle is pictured here with her beloved friend, Hearing Dog "Chuckie."
Dr. Danielle conducts a busy privately owned practice with a stated objective o assisting patients with integrating Alternative and Complementary Medicine with Traditional Medicine. She is a member of the Underwater Hyperbaric Medical Society and a Fellowship status with the American Academy of Pediatrics. She is also a member of AAP Section on Complimentary and Alternative Medicine and the National Center for Homeopathy.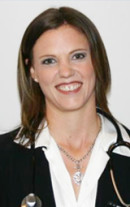 Naturopathic Medicine
Dr. Nicola McFadzean, B.A., B.H.S., N.D.
Dr. Nicola is a licensed Naturopathic Doctor in San Diego, California. Her areas of specialty include Lyme disease, autistic-spectrum disorders, eating disorders and women's health. She has lectured frequently on topics related to health and integrative medicine, and is an accomplished medical writer.
Dr. Nicola has an extensive background in the field of integrative medicine, having trained as a naturopath in her native country of Australia before obtaining her Doctorate in Naturopathic Medicine at Bastyr University in Seattle. She also has research experience at the Bastyr University Research Institute and the Columbia University College of Physicians and Surgeons.
Dr. Nicola has a special interest in the effects of nutritional intake accelerating the healing process when combined with HBOT.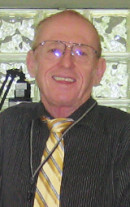 Scientific, Technical
Robert Lyne-Sands
Sands received his education at Newington College, Sydney Australia. Sands is the designer and patent holder of a innovative mobile hyperbaric chamber, the "TRCS", now in fleet-wide use by the United States Navy, Marine Corp. and Coast Guard. The eight-year research and development phase of this transportable chamber system began in 1982. During this period Robert attended many of the Worlds' foremost hyperbaric research facilities and worked with the U.S. Navy on a collaboration basis. In 1987, the South Pacific Undersea Medicine Society, (whose membership is usually reserved for physicians and full-time hyperbaric researchers) awarded Sands full membership. Robert Lyne-Sands has lifetime membership in the International Congress of Hyperbaric Medicine.
Sands moved from Australia to the U.S. in 1990 and became a U.S. Citizen in 2002. He became closely involved in the treatment of many "investigational" illnesses using hyperbaric oxygen therapy. These ailments included HIV/AIDS fatigue, chronic fatigue syndrome, Lyme Disease, stroke, autism spectrum disorders. He turned his focus to brain damage caused by traumatic concussion – the signature injury of the Iraq and Afghanistan War.
Sand's professional experience not only included decades of hands-on work in these "investigational" areas of hyperbaric oxygen therapy, he had more than twenty years of clinical experience in patient treatments for the conditions "approved" by the Undersea and Hyperbaric Medical Society. He lectured extensively to defense, emergency response groups, specialist physicians and patient groups in Australia, the United States, South America, Southeast Asia and the Middle East.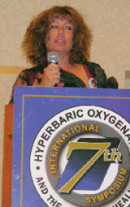 Nutritional Science
Kelly LeBrock
Kelly LeBrock was educated in Quebec, Canada and England. She is best known for her modeling and film career. Kelly's prime focus is on children. She is the celebrity spokesperson for "Club Carson," – the members are all children that suffer from cancer – a club that no one wishes to join but is pleased that it exists – where their oncologists can send them for almost zero-cost hospital standard hyperbaric treatments and nutritional advice.
In the late 1980's Kelly was one of the first U.S. citizens to own her own hyperbaric chamber – not for vanity reasons.
LeBrock quickly recognized the link between the increased oxidative metabolism, stimulated by exposure to breathing oxygen in a hospital quality hyperbaric chamber and the need for an equal response to supply these oxygen energized cells with healing nutrition and nutriceuticals. She started her own brand of homeopathic remedies which quickly landed the shelves of stores across America. LeBrock testified to Congress in 1995 to the House Enquiry on Insurance and Medicare Access for alternative treatments on the needs of all Americans to have affordable access to such powerful remedies.